SPECIFIC FEATURES:
A training course focused on health products related professional needs:
Health products are at the core of the course which includes the scientific, technical, regulatory, economic, strategic and managerial aspects necessary to management functions.
TRAINING COURSE IN PARTNERSHIP WITH THE PHARMACEUTICAL INDUSTRY
Since the creation of the IUP in 1991: 27 years of training courses, more than 17 years of apprenticeship, more than 2000 graduates over the world.
An appreciated vocational training:
A solid common base completed by distinctive courses related to various application areas in terms of health products.
An international approach focusing on the study of regulatory and economic contexts by country and facilitated by the command of languages.
Early exposure to business demands through continuous team work on professional projects completed by work experience.
Course choice dedicated to the professional sector of the health industries (60% of M2 students in apprenticeship). The term « health » is to be considered in the broadest meaning of the word as shown by the titles of our courses and sub-courses which cover the bio-medical and pharmaceutical fields, clinical research, occupational health and safety, environmental health, cosmetology, medical devices: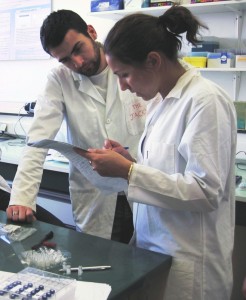 Project management, Health Products Marketing (MPPS)
Design and production of health products (2 courses: medicines, cosmetics) (CPPS)
Clinical Operations Management and Data Management (2 courses: Project management in Clinical Studies coordination, and Data Management (clinical databases management) (MODM)
Environmental health project management (MPES)
Medical Devices – From Design to Market (MDDM)
A training course adapted to the needs of the work place:
The career paths ensure a double "profession" and project management competence.
This double competence is appreciated by professionals because project management is applied to each professional sector which makes our qualified students operational managers.
A constant adaptation of the training course :
The professionnalisation supports a solid scientific background and adapts to the evolutions of the trades thanks to the constant involvement of professionals.
A development council triggers the evolution of the programmes to adapt to the new professions and to the evolving needs of the work place
The wealth of University – Business synergies and partnerships :
A real and constant partnership with the health industry.
The LEEM in particular (the national syndicate of drug businesses) which has led the evolution of the training course.
The FIP, the International Pharmaceutical Federation is represented in the Development Council.
Several companies through permanent and direct intervention of professionals in the Development Council, in courses, conferences, work experience management (15 months in total), projects entrusted to students.
Some varied access courses: