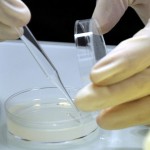 An early exposure to the demands of the work place, a permanent team work on professional projects completed by work placements allow a quick insertion in the targeted professions. The international approach marked by the study of regulatory and economic contexts by country and facilitated by the command of
languages helps target these professions abroad.
Evolutive training, a range of evolutive professions: Professional training is supported by a completed scientific training and adapts to the evolutions of the professions thanks to the permanent implication of professionals.
A development council sets off the evolution of programmes to adapt to the new professions and the companies' evolutive needs.
The Health Engineering speciality prepares to the following professions (non-exhaustive list):
PROFESSIONS TARGETED BY COURSE :
COURSE: CONCEPTION AND PRODUCTION OF HEALTH PRODUCTS (CPPS)
Executive in health products companies (medicines, cosmetic products).
Research and Development Engineer: medicines, cosmetics…
Galenic technologist,
Production, Manufacturing, Packaging manager
Production Materials flow manager
Technical sales engineers
Production purchase and negotiations manager for subcontractors, parts manufacturers or manufacturers or distributor of raw materials
Industrial logistics manager
Heath products production planning manager
Quality auditor, Quality manager
Galenic R&D and Production Project manager,
Product Manager
Industrial development manager
COURSE: PROJECT MANAGEMENT, HEALTH PRODUCTS MARKETING (MMPS)
Project manager (junior and senior)
Operational Planning manager,
Planning tools manager
Resources Manager
R&D sector or project planning manager
Product manager
Market researcher
Purchase or subcontractors manager
COURSE: CLINICAL OPERATIONS PROJECT MANAGEMENT AND DATA MANAGEMENT (MODM)
Clinical Research Associate (CRA), CRAs manager
Subcontractors coordination manager
Clinical operations international coordinator
Clinical operations manager for an international study
Clinical data manager (Data manager)
Clinical data management project manager
Therapeutic area manager, Data Management
Data Management department manager
Clinical data management planning manager
Clinical development quality manager
Clinical operations project manager
Regulatory Affairs planning manager
Subcontratctors' purchase manager
COURSE: ENVIRONMENTAL HEALTH PROJECT MANAGEMENT (MPES)
Health & Safety Manager
HSE advisor
Hygene and security manager,
Environmental health project manager,
Quality safety and environment manager,
Research officer in a government agency,
Health hazard consultant,
Risk assessment research officer
COURSE : MEDICAL DEVICES, FROM CONCEPTION TO COMMERCIALISATION
Project manager and manager in the field of medical devices in :
R&D
Production
Regulatory affairs = Quality
Pre-clinical and clinical assessment of medical devices.